Presentation of Lonely Street Gene Vincent :
Welcome to Gene Vincent Fan Club.
It has been up and running since 11th february 2007, an anniversary date chosen as a symbol, even if the website is still a work in progress.
Gene s life is detailed by years, the site is growing every day.
You will find in the miscalleanous section the latest updates , it will show you the different topics and a list of the online material.
This website is mostly based upon documents given by people who met Gene, during his touring in France for exemple. Fans have kept over the years newspapers, authentic documents, stories, pictures, about these experiences shared with Gene, as well as my personal collection.
Many thanks to these fans for these accounts, making it available to other fans, who, like myself, were not there in Gene s lifetime.
And many thanks to those who did not know him, who did not have the chance to shine at his sides, but who are fans today! You guys are great!
It is thanks to them that all this material can be gathered. I hope you will learn more about the man, the artist, and his exceptional fate.
Feb 11, 2007 (Video)
Fan club opening
Happy Birthday Gene Vincent !
Tribute to Gene Vincent by Lee-Loo Feb 2007 (Video)
The main purpose of this website is to gather Gene Vincent fans (they are very numerous), or to make you know Gene better if you have not discovered him yet. All the available means are used to allow real exchanges, despite the distance (the website to learn more, the forum to allow fans to meet other people like themselves, and the blog to give the possibility for the young generation to listen to Gene Vincent.
An important part of this website is dedicated to the french translations of english documents about Gene Vincent. Special attention will also be brought to Gene s tours in France
The international fan club on Myspace was open on spring 2009.
These exchanges and discussions between fans in the middle which had until then remained closed to many seems today a necessary move.
I am lucky enough to have the possibility to build this website, and I hope that the discovery of new documents will make you as happy as I am : I have spent so much time looking for interesting material, and found only a few biographies that I could understand only with the help of a dictionnary.
Audio interviews will be translated in french as soon as possible. In the audio section of the blog (see the main navigation menu, at the top), you will also find some song lyrics, they will be added little by little.
If you register on our forum, you will find exclusive material and Ann Vinyl montages . You will be able to read the latest news about Gene Vincent, and we are also waiting for your impressions and questions.
If you want to submit new material that is not already online, a special section
is available.
This fan club has been created, so that no occasion to organize meetings, events, or homages shall be missed
We are very pleased to have
Dickie Harrell from The Blue Caps as an honorary member,
his presence is truly a gift, many thanks to him!
Medley :
(close for video)
Many thanks to Tina Craddock, our benefactress since january 2008, for her support and her help in passing on to Gene all our love!
About fan club now international (2009) :
Jeudi, 9 Avril 2009 5:53
Hi Lee-Loo
..
hugs and kisses
TINA
PS CONGRATS ON YOUR NEW VENTURE!
Gene and Tina, Los Angeles California 1969
Tribute with Tina, Gene's sister, Eternal Valley CA, Oct 12th 2007
More, "Eternal Valley" Section
Many thanks to Dickie for his great kindness and his time.
Everything is right here now and for ALL.
I hope you will share my passion.
I have looked for this place for a long time, and now I am building it.
Once again, thanks to those who helped me along the way.
Best regards, and enjoy your stay.
Lee-Loo
President and founder
Of the Gene Vincent "Lonely Street" Fan Club
Creator and webmistress of this site
Gene Vincent Fan Club
Name and projects are under protection
Gene Vincent FanClub on Facebook

, click like ! :

Click "I like (like)" and
get Gene's memory alive! !

Join us on Facebook

click 'like' to register
"Lonely Street" on FR forum
:
INTERNATIONAL fan club GENE VINCENT :
"Lonely Street" : MYSPACE
Oct 12, 2011
GENE VINCENT 's 40TH ANNIVERSARY OF HIS PASSING (1935.1971)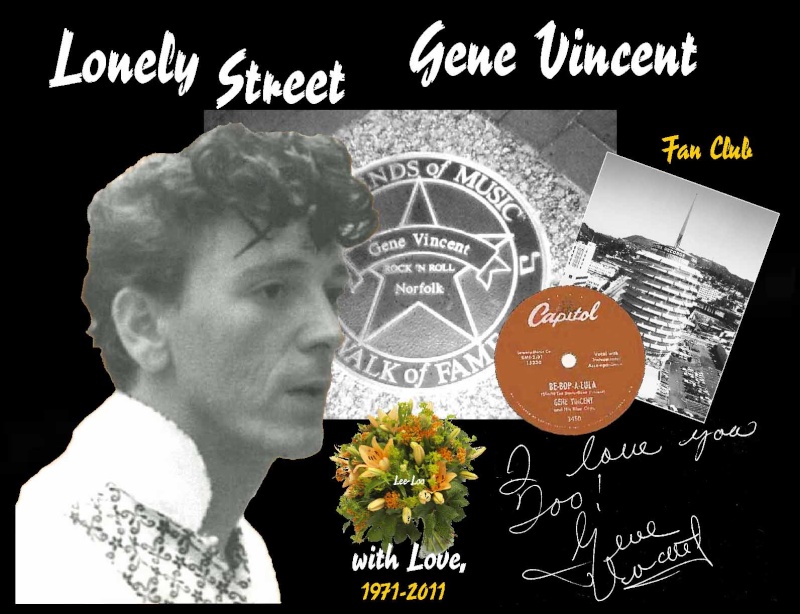 LONELY STREET FAN CLUB GENE VINCENT - california press :
GENE VINCENT FANS MARK 40th YEAR SINCE DEATH, BURIAL AT FRIENDLY VALLEY — First-generation rockabilly/rock 'n' roller Gene Vincent, whose immortal single "Be Bop A Lula" and rock movie appearances with his group The Blue Caps made him a superstar on both sides of the Atlantic in 1956, died 40 years ago Oct. 12 at age 36.

A posthumous Rock 'n' Roll Hall of Fame inductee in 1988, Virginia-born Vincent is one of the most famous residents of Eternal Valley Memorial Park and Mortuary on Sierra Highway in Newhall. He's buried in Plot 91 in the Garden of Repose.

Christian Bouyer, a fan from Angouleme, France, who now lives in L.A. and works at DisneyToon Studios as a CG character modeler, is coordinating a memorial gathering for Vincent fans. He's setting it up in conjunction with the Gene Vincent Lonely Street international fan club run by Lee Loo, who's traveling from her home in France to attend the event and visit Vincent's burial site.
http://genevincent.weebly.com/
The gathering at Joe's Great American Bar & Grill in Burbank on Wednesday, Oct. 12, starting at 6 p.m., and it's free (you pay for your own food, though). Fans are invited to share Vincent stories and memories, and perhaps perform a song or two.

For more info or to sign up to play, check out the event website. There's also a Facebook page for the fan club and an event page Lee-Loo and C. Bouyer put together. And find out more about Vincent, his music, troubled life, tragic death, and profoundly lasting influence with a visit to the Rockabilly Hall of Fame site.

read online
Open/click
CALIFORNIA SANTA CLARITA NEWS
Presentation :

Place : Joe's American Bar & Grill
BURBANK (Los Angeles) California
(PRESENTATION : register - links - place - drink - eat - .....)
With the participation of Ray Campi, Rip Master, Ronnie Mack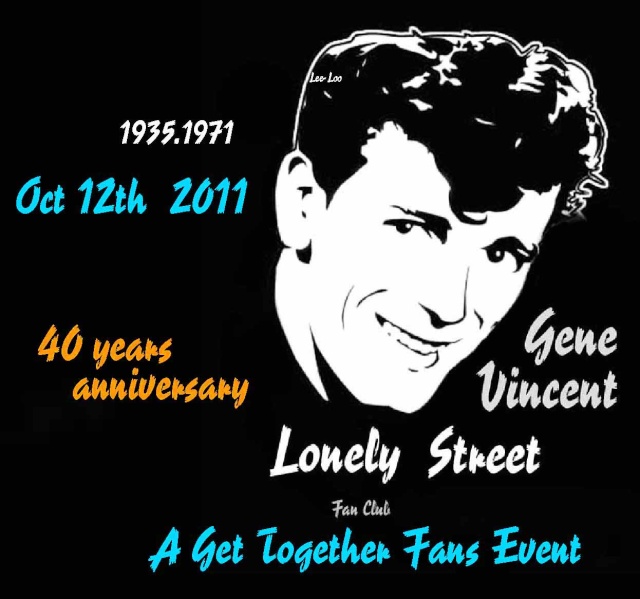 Every fan of Gene!
It will be very emotional to meet you all on the occasion of Gene's 40th anniversary of his passing .
Maybe , like myself , you will be able to be in Newhall with Gene this time around .
I'm sure he would be happy to know that we gathered to celebrate his music for which he lived. On this occasion, I will be in Newhall, and I hope to see you there.
Lee-Loo (France)
President and founder of Gene Vincent Fan club Lonely Street
With the partnership : Christian Bouyer (CA) - Delegate to the United States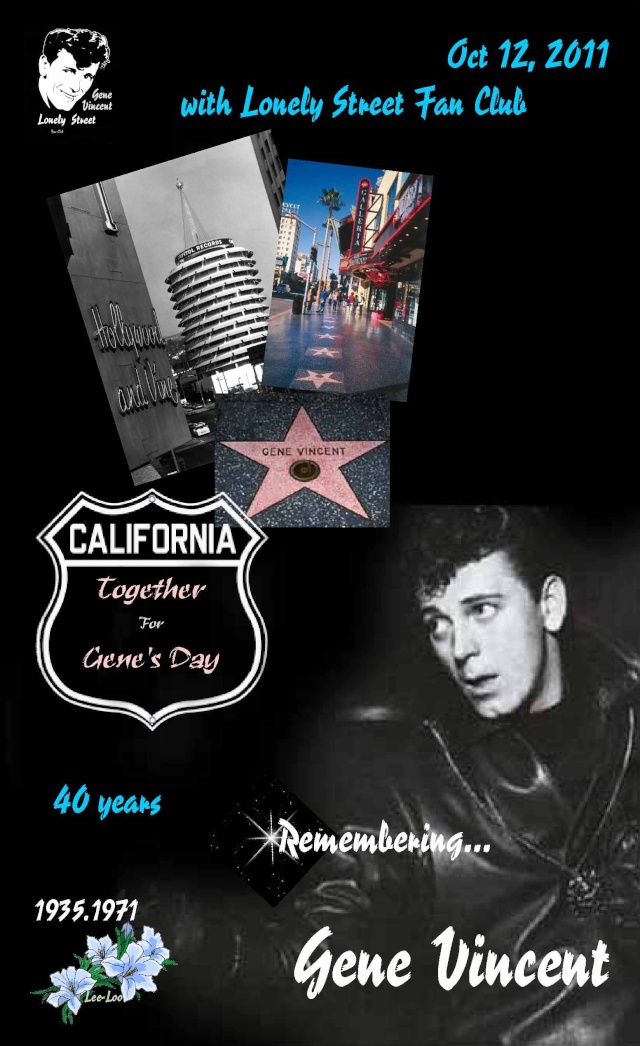 Special page on Eternal Valley section and on Facebook page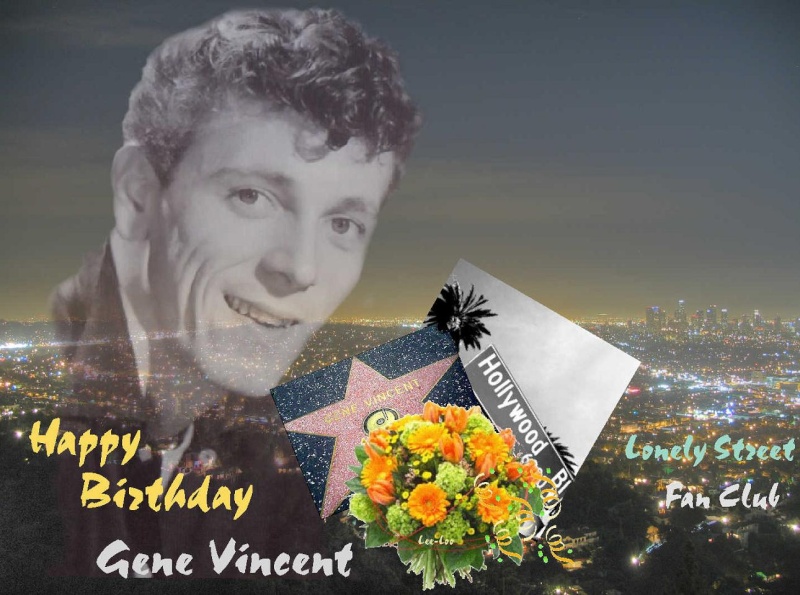 FOR GENE VINCENT 75TH BIRTHDAY FEBUARY 11,2010
SPECIAL GENE VINCENT DAY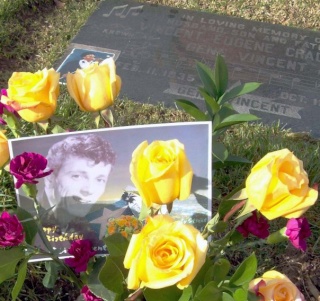 Thank you to
* those who participated in celebrating the 75th anniversary of Gene Vincent
* to Chris for giving flowers to Gene at Eternal Valley Newhall CA
* radio stations who have made "special day" Gene Vincent on this day of February 11, 2010

Thank you for the participation of all fans and especially united on Facebook
Thanks for all messages for Gene
Lee-Loo
"Lonely Street" Fanclub Gene Vincent
Now, Gene's illustrated biography and more ! :
MENU